Neighbors, Welcome Into My Kitchen!
Excuse me while I freshen things for company.  I have my face on this morning, so no more Instagram pictures  like I shared last weekend, surrounded by Christmas clutter sans make-up.  (Horrors!  And, please follow me.)  Dusting my hands off now with Christmas decor all boxed up (woohoo!).  All I lack now is bribing hubs to pack away the Christmas Tree of Hope.
A question for you:  As you look back at the long line of hills and valleys of your life, through hard seasons and celebratory times, can you agree that you needed God's strength most of all and also good health?  As Christians, we are to BE responsible with all the resources entrusted to us by the Lord, including our body, God's temple in us.
And so, dear brothers and sisters, I plead with you to give
your bodies to God because of all he has done for you.
Let them be a living and holy sacrifice – the kind he will find
acceptable.  This is truly the way to worship him.  Don't copy
the behavior and customs of this world, but let God transform
you into a new person by changing the way you think.  Then you
will learn to know God's will for you, which is good and pleasing
and perfect.  (Romans 12:1-2)
Wow, that part Let them BE a living and holy sacrifice reaffirms what God wants us to BE rather than do: TO BE or NOT TO BE in 2019.
Caring for our bodies can, if we're not careful, be carried into the extremes of idolatry . . . worship of self . . . selfishness.  Proper self-care for the Christian means living in right relationship with the Lord and with intimacy in our relationship with Him for proper balance in life.  If you question this, take it to the Lord in prayer.
Ask God to show you the heart He wants you to have in caring for your body, His holy temple.
From the beginning, in Genesis Two, God gave Adam the directive to tend and watch over His creations in The Garden of Eden.  We are called to properly care for the resources God provides, whether it be our body, our home, our vehicles, our property, our budget, our animals, and also for what hubs and I call our "tax deductions" (aka kids – wink).
As we tend to our family's needs, the foods we place on our table matters.  We should consider how that food can strengthen or harm the bodies gathered there (young and old).  Healthy food, however you perceive that to be through the leading of the Holy Spirit, is loving.
Maintaining good health (loving yourself) ties in with loving your neighbor, as well.
Love your neighbor as yourself.  (Mark 12:31)
That's where you come in.  You, my friends, are my virtual neighbors (and I do wish many of you could be my literal neighbor)!  In light of that, I'm responsible for loving you as my neighbor.  (An easy thing to do since y'all are so sweet and supportive!)  Now that I know how susceptible we are to illness and disease during the tough seasons of life, of course we should explore staying healthy!
While my ministry priority is to encourage you in the tough and triumphant seasons, God directs me to share healthy resources that will benefit your temple in the way that He builds and strengthens mine.  When I asked God to show me His will for me in this, He took me to His words about caring for our body, His temple.
Don't you realize that your body is the temple of the Holy Spirit,
who lives in you and was given to you by God?
You do not belong to yourself, for God bought you
with a high price.  So you must honor God with your body.
(1 Corinthians 6:19-20)
I apologize for being lax in providing recipes for health in prior weeks.  Several of you had requested healthy recipes, and I shared a couple, but then I dropped the ball.  When seeking God's will for what He asks me to do here on this blog this year, He made it clear.
My New Commitment to Loving You As Myself
I'll share recipes more regularly plus healthy ingredients to include in your meals.  Please don't think "overhaul" here.  If eating healthfully is a new thing for you, just think "slight additions for health" as you move forward.  This is in no way a d-i-e-t.  I happen to not believe in "named" diets per se.  I do, however, believe in a personalized healthy eating style for life.
Love your neighbor as yourself. (Mark 12:31)
Click To Tweet
You can move towards eating more healthfully either slowly or quickly (in whatever way God directs you) if that hasn't been the case for you in the past.  The Lord simply asks me to be a resource and to provide links to blogs and websites who are already doing a fantastic job with healthful information and inspiration.  I'll share all my favorite places to hang out.  🙂
God has revealed much He wants me to share with you.  It will require more vulnerability on my part.  Like this post coming soon:  How I lived with fat guilt for far too long!
for God bought you with a high price. So you must honor God with your body. 1 Corinthians 6:19-20
Click To Tweet
How's that for an honest and vulnerable admission of guilt?  Ha!  Are you interested in eating more healthfully?
Neighbor, I'm so glad you're with me in this season.  Check out the inspiring posts at Faith 'n Friends Link Party.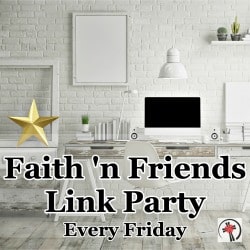 Because He lives~